Written by Lawrence Mukombo
Nurse Training College
Mukinge Nursing College is a mission training institution, a department under the Mission Hospital. When the hospital first opened in 1953, it was a school for medical assistants and was later changed to Enrolled Nursing School in 1964 which only trained female students. However, in 2005, the first male students were enrolled and graduated in 2007. Following its successful application and evaluation by the General Nursing Council (GNC) of Zambia In July 2013, the school was upgraded from an Enrolled Nursing (EN) School to a Registered Nursing (RN) School. In the same year, the school admitted a total of 63 students to start the RN Diploma program.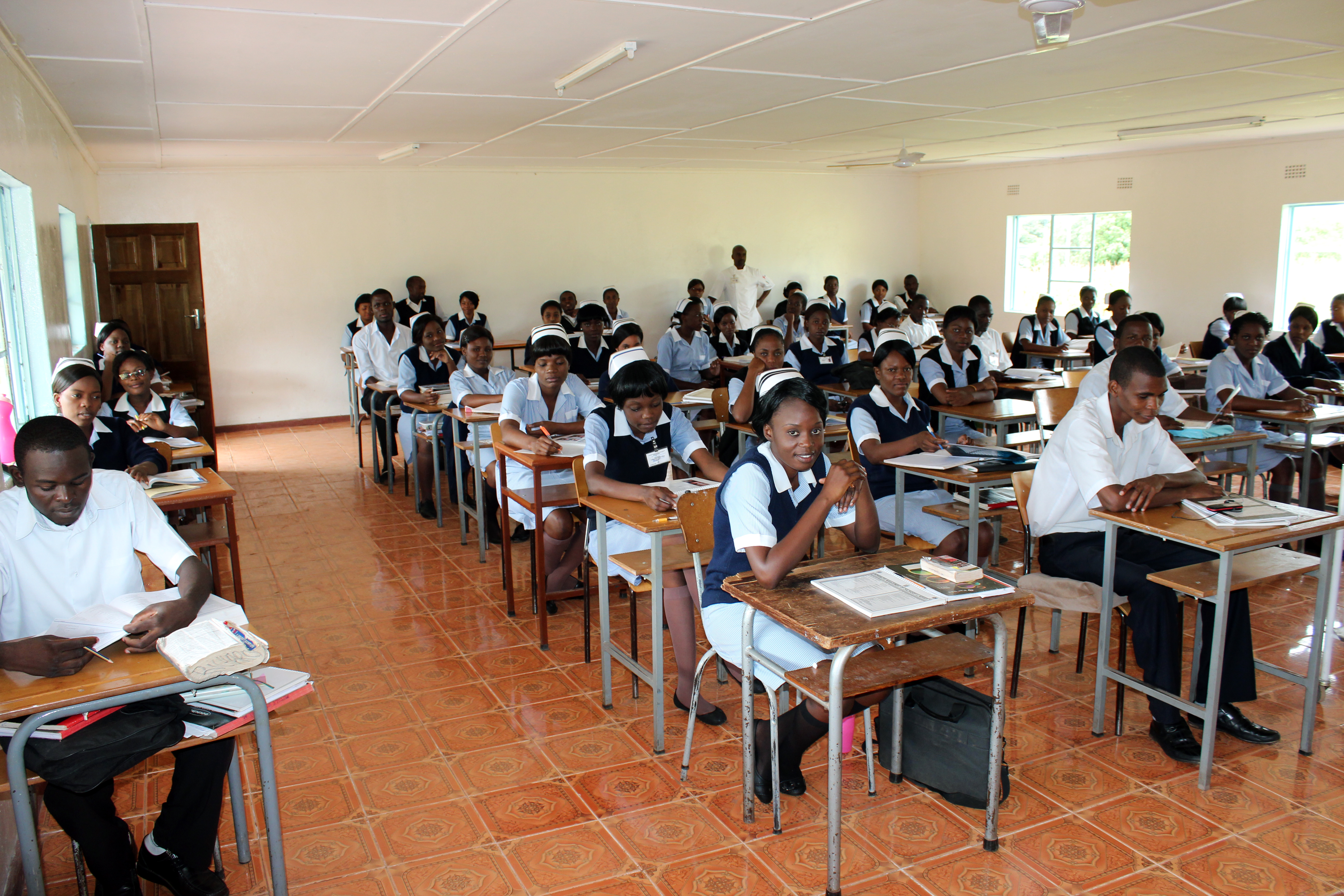 Vision
To become a nationally and internationally recognized nurse training institution in the provision of sound nursing education, nursing practice, nursing management, nursing research that is anchored on Christian principles and be a solution to national and the global human resource crisis for the health sector.
MISSION STATEMENT
Is to reflect the glory of God by training qualified, competent, caring, hardworking and spiritually sound Nurses who will make a difference in Zambia and beyond.
VALUES
Spirituality, competence, honesty, excellence, team-work, professionalism and empathy.
PROGRAMS OFFERED
Registered Nursing Diploma (RN Dip)
EN-RN Abridged Conversion ( Contact the College for entry details)
ENTRY QUALIFICATIONS
Minimum Age: 16 years.
Compulsory Subjects: English, Mathematics and Science (Biology, Science, Combined Science, Agriculture Science, Human Biology).
Optional Subjects: Any other Two (2) subjects – Local language, Religious Education, History, Commerce, Geography etc.
NOTE:
A total of (5) five subjects are required for one to qualify for interviews.
All the subjects must be 'O' levels at credit level of the Zambian certificate or its equivalent.
For a candidate to be selected for nurse training, they should pass both personal interviews and aptitude test.
WE ARE NOW ACCEPTING APPLICATIONS FOR THE GENERAL NURSING PROGRAM-JULY 2019 INTAKE
METHODS OF APPLICATION
All applicants who meet the above minimum entry requirements can buy an application form which is available at the School at a non-refundable fee of K130. 00 (Ensure a receipt is given upon payment). Please note that application forms are only sold to eligible applicants.
If you have downloaded the Application Form from this website you can pay in this bank account


ACCOUNT NAME: MUKINGE COLLEGE OF NURSING

ACCOUNT NO. : 5671992500183

BANK NAME: ZANACO

BRANCH: SOLWEZI

you can pay in the bank account and scan and send a copy of the deposit slip to the school on the e-mails provided below.

KINDLY NOTE THAT YOU HAVE TO SEND YOUR RESULTS FOR VERIFICATION TO THE SCHOOL BEFORE PAYING FOR THE APPLICATION FORM.
The applicant should fill-in the application form and return it to the office of The Principal Tutor as soon as possible.
Attach a certified copied of School certificate or Statement of results and a copy of National Registration Card (NRC) before submitting the application form to the School.

The applicant will later be invited for interviews through a personal letter, national, local print or electronic media.

Send your Application letter to:
The Principal,
Mukinge School of Nursing
P.o Box 120092,
Kasempa, NWP
Cell: 0953176434, 0968427488

Email: This email address is being protected from spambots. You need JavaScript enabled to view it.
This email address is being protected from spambots. You need JavaScript enabled to view it.